CompTIA CASP Exam Voucher for India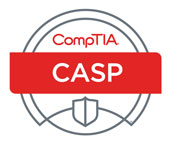 CompTIA India CASP Voucher is also known as CompTIA India CASP Test Voucher, India CASP Discounted Voucher, or CompTIA CASP Exam Voucher for India.
CompTIA CASP Exam Voucher for India is a discounted, pre-paid exam ticket ID that you purchase ahead of time for less money than you would pay at the test center. Using a discount India CASP exam voucher is a great way to save money on your CompTIA CASP certification and SuperVoucher saves you the most.
Redeemable Country
CompTIA CASP Exam Voucher for India is valid in the following country: India
Testing Centers - Pearson VUE
Our VUE CASP Exam Vouchers for India are redeemable at Pearson VUE testing centers in the redeemable country listed above. CompTIA exams are delivered exclusively with Pearson VUE, and no longer available at Prometric testing centers. Please make sure of the testing center you are going to take your CompTIA CASP exam before purchasing the CASP exam voucher.
You may locate a Pearson VUE testing center near you.
CompTIA CASP Exam Voucher Bundle for India
All our CompTIA CASP Exam Vouchers are bundled with reference guide(s) without additional charge.

Our CASP Exam Voucher Bundle for India includes:
One exam voucher for one CompTIA CASP exam (CAS-003) for India
Reference Guide: Super Glossary for CompTIA Exams (130 pages, in Adobe Acrobat pdf format)
*

Coupon Code

*Get a coupon code and save more

Exam Voucher Bundle
Test Center
Regular
On-Sale
Voucher Expiry
Add To Cart
CASP Voucher (India)
VUE
$

246

$235

2020/01
* Prices All In US Dollar
Note:

1.
Exam vouchers, study guides, practice exams, online courses, and courseware are all Non-Refundable. Please read the Fine Print before purchasing the CASP Exam Voucher Bundle.
2.
CASP Exam Voucher Bundle for India will be delivered through email in 12 hours.
3.
All E-Books and PDF materials herein for CASP Exam Voucher Bundle have been licensed from Exam Success Pro, all rights reserved.